Knit and Crochet Pattern Chat have combined.......Yes I have another blog called Creative Assist which I am going to combine with this one; Knit and Crochet Pattern Chat. So soon that one will not be kept up-to-date but all help and assistance I find for knitting, crocheting, etc. will be posted on this blog. Thank you for visiting and post or comment with any problems you have and I might be able to help you or find help for you.
Happy hooking! kathy
Here's that blog URL: Creative Assist
and here's a sample:
Do you need help learning the magic ring for crochet?
I found this excellent website and I'm sure there's others.
Planet June She has an great picture tutorial. I always think I know how to do it but then find myself referring back to her website for help.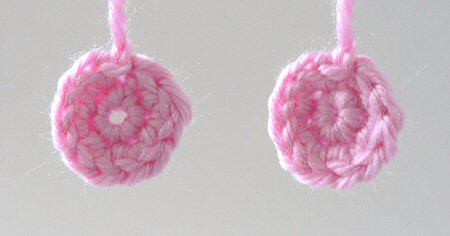 NO HOLE!
Let her know I have sent you her way. Us bloggers and website owners love hearing from the people that are enjoying our posts. Don't be shy........please comment. You can even tell me what help you would like to see.
Happy hooking!
Kathy
Tuesday, June 11, 2013
Crochet Turning Chain Alternatives
Mr. Miccawbar's Recipe for Happiness blog!!
This is what Mr. Miccawber has to say. This
is just an excerpt..........please check out
the blog for the rest of the information.
You won't be sorry. This is awesome
and so is the blog! Please, leave a
comment for me if you wish to see
more crochet helps........I'll be adding
more knitting helps also. So let me know;
knit or crochet or both! But please comment
so I know if this blog is helpful.
"Crochet Turning Chain Alternatives
Ch 3 (counts as first dc), turn.

These are some of the most familiar words
in the crocheter's language. They signal
the end of one double crochet row and the
start of another. That chain 3 works to get
your yarn up to the proper height for the
next stitch. It's also (in my opinion) a fiendish
ploy designed to drive the stitcher crazy.

You know what I mean - you've been there
yourself. You're zipping along, you and your
hook, dancing through the yarn and
crocheting like the dickens, when all of a
sudden you reach the end of the row.
Screech! The happy momentum comes
to a crashing halt as you poke around in
the turning chain, looking for the right place
to put your last stitch"...............